Timeline – Phase 1 Enrollment Management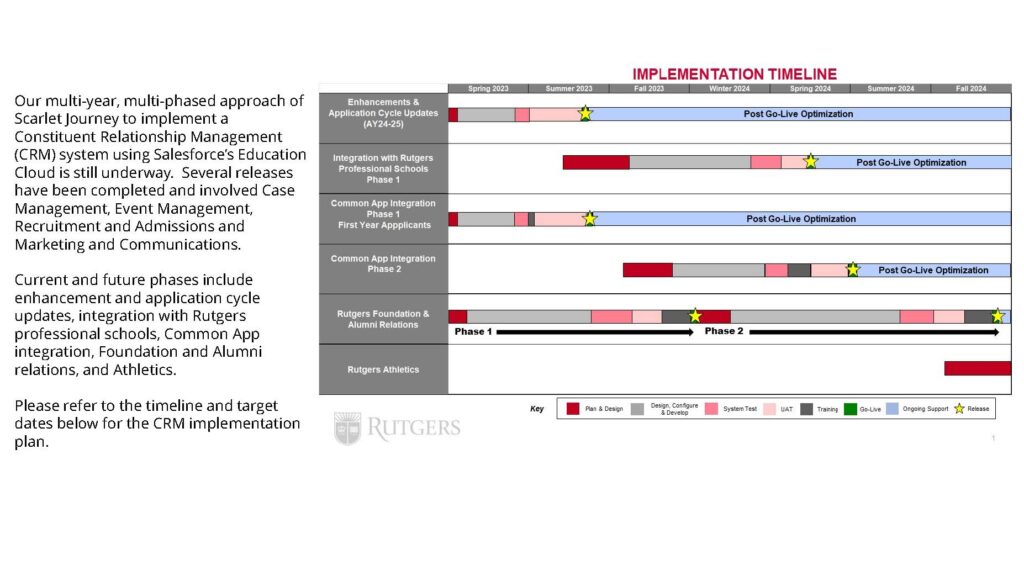 The implementation will center around six releases from September 2020 to August 2021; with functionality prioritized and aligned with Rutgers' Admissions calendar. 
The implementation dates for Case Management, Event Management, Recruitment, and Admissions are informed by insights and outcomes from the Plan & Architect phase, the academic calendar, and stakeholder feedback. The dates have been approved by the Camden, Newark, New Brunswick, and RBHS Enrollment Management Vice Chancellors, the Steering Committee, and Executive Sponsors. Dates are subject to change.
Functionality:

Enhancements and Application Cycle Updates for AY2024-2024
Common App Integration Phase 1

Functionality:

Foundation and Alumni Relations will complete implementation of Marketing Cloud Phase 2,
Affinaquest systems Phase 1 for prospect management and fundraisers, and
Commerce Cloud

Functionality:

Phase 1 integration with Rutgers professional schools

Functionality:

Common App Integration Phase 2

Functionality:

Affinaquest Phase 2 implementation for gift processing, bio data processing, grateful patient, institutional giving, connection to Marketing Cloud and reporting